Below are a few words from our eCadets and what they enjoy about their role.
Amit Yr5
"My eCadet job is to teach our class about e-safety and how to you keep safe online"
Nikhil Yr4
"Being an eCadet you get to learn and teach at the same time."
Saaleha Yr5
"I like helping other kids, teaching lessons and experiencing what it feels like to be a teacher."
"I have learnt about digital footprints, how to identify fake news and gobubble."
Kal Yr2
"We have learnt to keep people safe online when they are playing"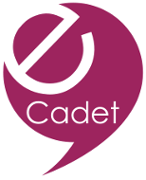 The eCadets next challenge for Year 5 and 6 is to register the school on GoBubble.
GoBubble (Ecadets safe secure social network built just for under 13s).
Congratulations.
eCadets have done fantastic work and passed the challenge Spring: Main activity (Mini) and have been promoted.
E-Cadets: Children start as e-cadets and now have achieved e-sargent and e-inspector. They are now working towards being towards an e-chief inspector. Being an E-cadet is to raise more awareness for e-safety and put in a support network for children. Classes will have a diplomatic vote of those wanting to be Ecadets. They also attend a weekly club and what they are taught, they feedback to their classes. Ecadets support the children with any issues they may be facing online and report back to the teachers.